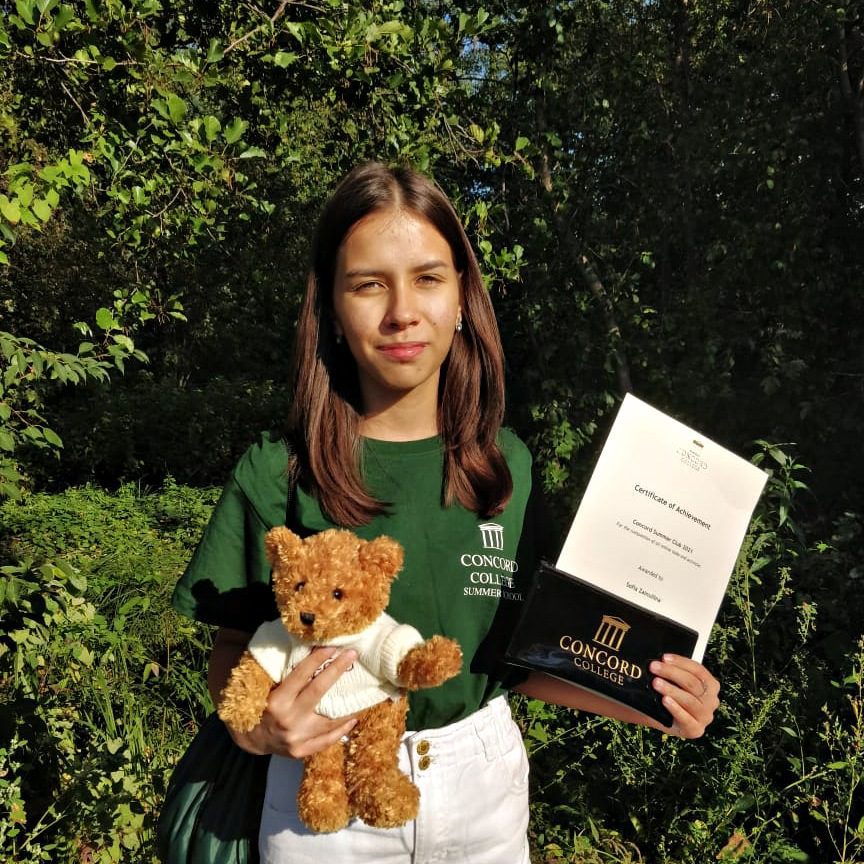 Second
winning student reflects on CSX21 and excitement for 2022
7 September 2021
July marked the end of Concord's second online educational programme – The Concord Summer Experience (CSX21).
Another popular online programme delivered by the college, over 700 pieces of student work were submitted virtually, and students who completed all 15 tasks and study skills sessions were given the accolade of joining the exclusive 'Concord Club' and awarded certification.
Two of these winning members, Teenueng, 12, from Thailand and Sofiya, 14, from Russia were also the lucky recipients of Concord Summer's 2021 raffle prizes, including vouchers for 50% off 2022 residential fees, in addition to goodie bags.
Speaking of her 'winning feeling', Sofiya said: "I will never forget this feeling. When I found out this great news, I was shocked. I won from almost 800 entries!
"It's incredible. I can't help smiling when I think about travelling in the UK.
"I will of course be using my 50% off voucher for a 2022 residential course – it's a really good opportunity to practise my English!"
She added: "I like studying languages, so I want to increase my knowledge in this field. I think Concord College Summer course can help me to achieve my goal."
Sofiya described CSX21 as 'inspiring' and 'a good chance to improve her level of English' after she completed all 18 tasks.
"I was inspired by my goal to speak English fluently. I had the opportunity to practise reading, writing, speaking and listening every day, and it was an amazing experience.
"The tasks were insightful and all totally different, so I learnt lots of new skills. For example, I learnt about time management, dealing with stress, recycling, setting SMART goals, and many other interesting topics.
"My favourite task was 'Communication Skills' – In this activity, I found out more about the importance of soft skills in our society, so I plan to pay more attention to these subtle skills moving forward."
You can also read Teenueng's reflections on CSX21 by clicking here.
Concord's Summer School Senior Administrator, Mrs Sharon Connor commented: "The quality of the work submitted by all students was amazing and Sofiya is deserving of the prize for her commitment to completing every task set.
"We are delighted that Sofiya is planning to join us in 2022 and look forward to helping her build her knowledge and achieve her goals.
"We hope all the students who participated in the online course enjoyed it and learnt new skills and we would love to welcome them to Concord in 2022."
Applications for 2022 programmes are now live! Click here to apply.
BACK