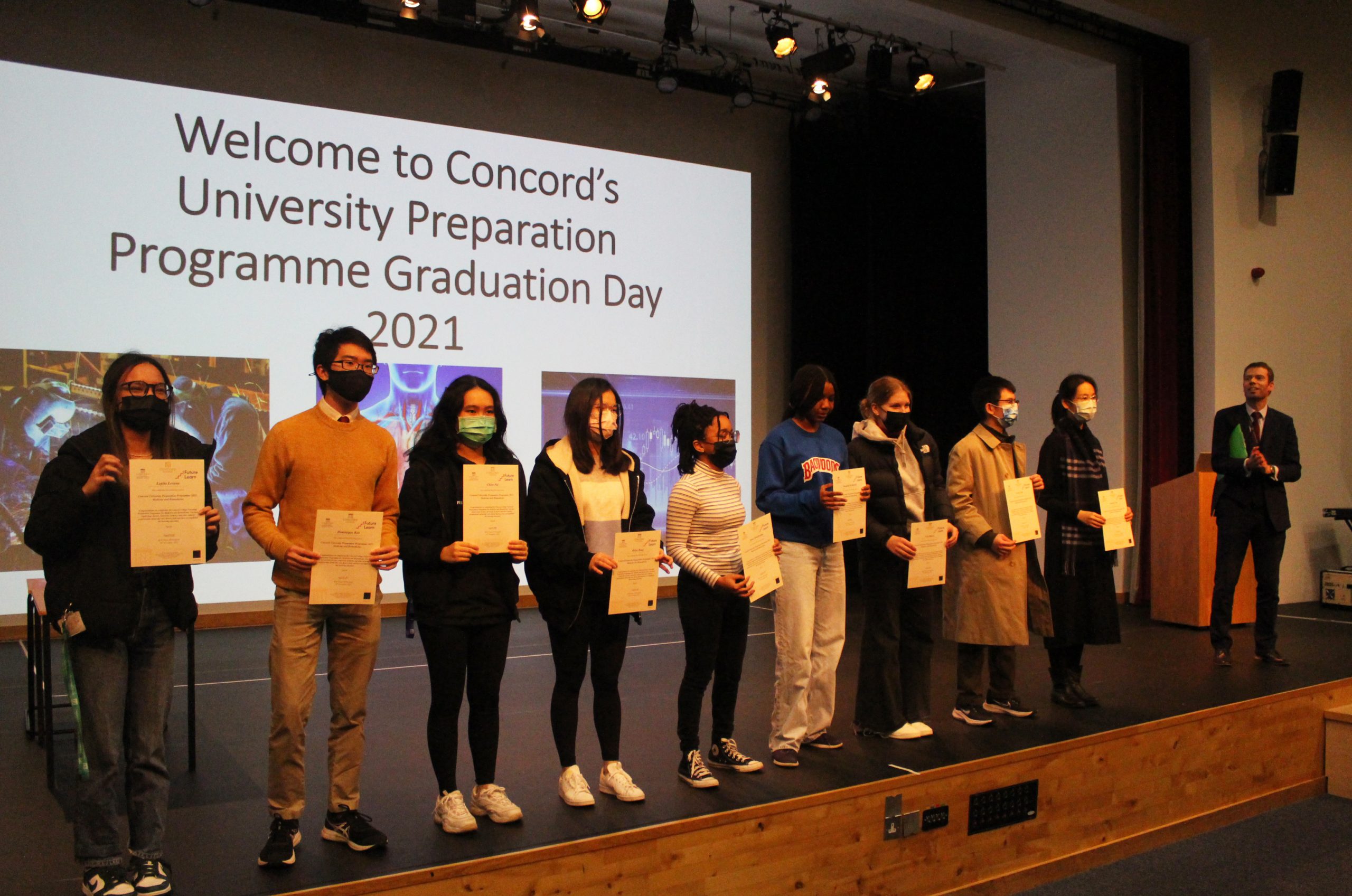 Students
enjoy University Preparation graduation ceremony
29 November 2021
This Wednesday marked the graduation for Concord's University Preparation Programme 2021 – a celebratory occasion for 6.1 and 6.2 Main Term students who enrolled on one of the three online courses available this summer, as part of Concord's Summer School provision.
Concord's Main Term students regularly gain admission to 'Top UK' universities, as well as around the world. The College has a particularly strong record of placing students into Engineering, Economics and Maths courses as well as into UK medical schools.
Using in-depth knowledge of what it takes to give students that extra edge, and the College's extensive academic network, Concord has developed a series of outstanding two-week University Preparation programmes – which, for the past several years, have proved very popular with Main Term students as well as external students.
Courses are also chosen (and amended) each year, to ensure the College caters for some of the most competitive and appealing courses, as per university admissions and industry trends.
The 2021 courses were as follows:
Medicine (and Biomedicine)
Engineering
EFAB-M (Economics, Finance, Accounting, Business and Management)
In addition to 12 external students from the local area – some of whom were awarded scholarships, 65 new or returning 6.1 and 6.2 students signed up to a course.
Reflecting on students' participation this year and recognising their achievements, Concord's Assistant Principal (Careers and University Admissions), Dr Rob Pugh said: "We were delighted to be able to offer this graduation event for all students that participated in the online University Preparation courses back in August.
"In addition to celebrating their completion of the programme, this was an opportunity to learn with leading academics and entrepreneurs face-to-face, while also bringing the Uni Prep community together one last time."
As part of Wednesday's graduation ceremony, students benefitted from dedicated follow-on lectures in their chosen subject specialism, delivered by Dr Macartney (EFAB-M), Dr Ottewell (Medicine) and Dr Harwood (Engineering) during the morning, as well as partaking in Q&A sessions.
After lunch, all graduating students were invited to Concord's Theatre for a keynote presentation by an inspiring author, speaker and entrepreneur, Katie King, who spoke on the interface between artificial intelligence (AI), technology and medicine, engineering and business, catering for all three different courses.
Dr Pugh added: "We hope that the students enjoyed a day to really stimulate their minds, particularly with university applications and interviews coming up soon for many."
At the end of the graduation, students were presented certificates signed by Concord's Principal, Dr Michael Truss.
University Preparation dates and fees for 2022 to be announced in the New Year.
BACK