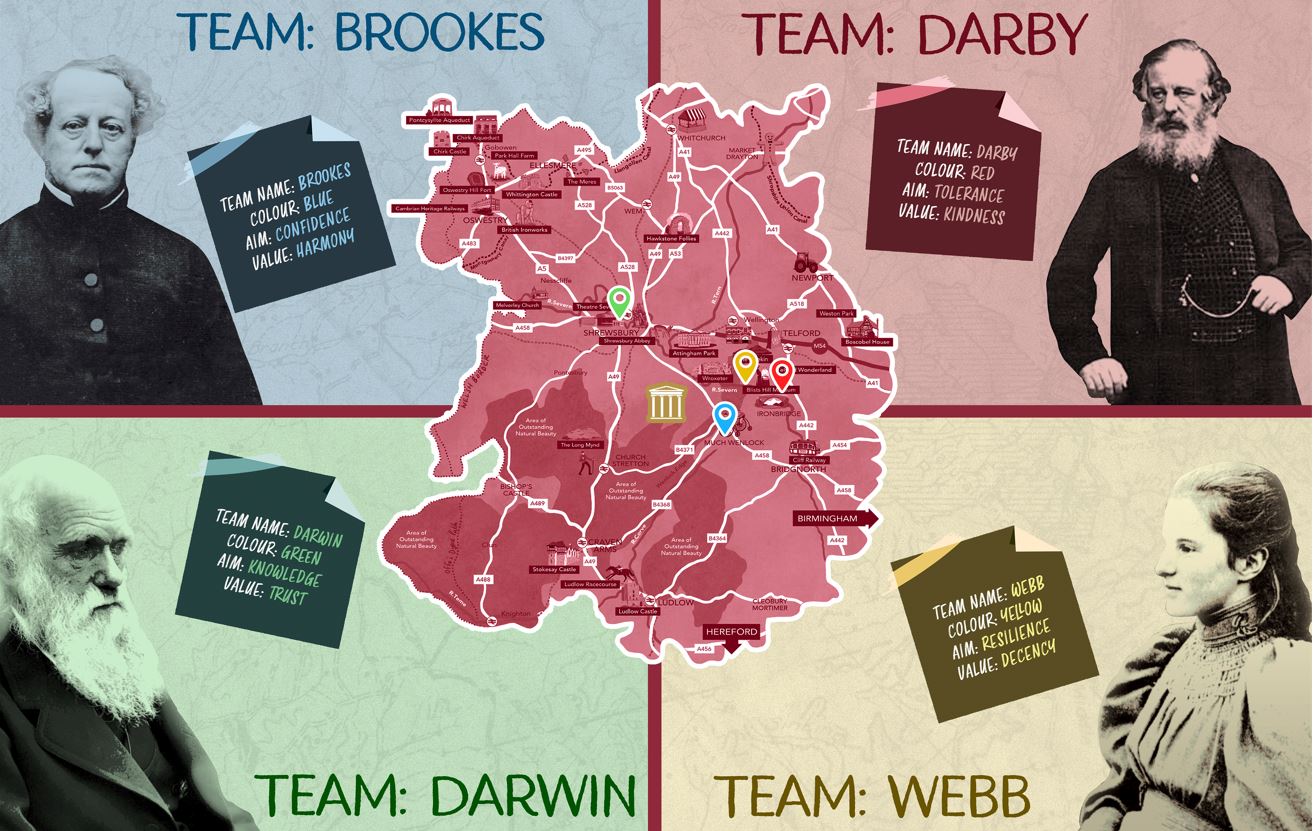 Concord
Summer announces new teams!
23 February 2022
Ahead of the College's first residential Summer School since 2019, Concord Summer has just announced that it will be introducing new teams in its July and August 2022 programmes.
Following in the footsteps of Concord's Main Term provision with four Houses, the Summer School team has launched four new teams of their own: BROOKES, DARBY, DARWIN AND WEBB.
The four distinct teams will act as 'houses' for all students enrolling on a summer course; Teams will earn points by students taking part in activities, challenges and competitions throughout their course – as well as by displaying various acts of kindness.
Like Main Term tradition and for former Summer School teams from 2016 onwards, it has also been decided that the team with the most points will be awarded a special Team Trophy at the end of course Graduation Ceremony, for added motivation to engage and excel during the Summer School.
Each new team consists of a name – based on a historic local legend, a colour, an aim and a value. Students will be provided with team-coloured kit as part of their Welcome Pack. The aims and values are the core principles instilled at Concord College Summer School.
The teams are as follows:
NAME: BROOKES – COLOUR: BLUE – AIM: CONFIDENCE – VALUE: HARMONY
NAME: DARBY – COLOUR: RED – AIM: TOLERANCE – VALUE: KINDNESS
NAME: DARWIN – COLOUR: GREEN – AIM: KNOWLEDGE – VALUE: TRUST
NAME: WEBB – COLOUR: YELLOW – AIM: RESILIENCE – VALUE: DECENCY
For more information on the teams, such as what each individual is famous for still today, in addition to their former locality to Concord, click here to view the team posters on Instagram.
Speaking of these new teams, Summer School Administrator, Mrs Caroline Pocock said: "The Summer School team are very proud to introduce these new but historic teams.
"Operating in a similar fashion to Concord's Main Term provision and Concord Summer's former teams, the four teams will create an added sense of belonging and community amongst students on our summer courses."
She added: "Each student will be able to learn more about what the teams stand for. This will undoubtedly have a positive influence on our students each year, developing and demonstrating the key values that we celebrate at Concord Summer – which they can take forward with them in all walks of life."
Digital Marketing Officer, Mr Joshua Coffey said: "With the return of our top-quality residential summer courses, it is a wonderful opportunity to bring about such positive changes and create something new that the students will benefit from.
"The team system will continue to work in a way which inspires inclusivity and kindness. Students from around the world will encourage each other's participation, success and support in a wide variety of activities, from the classroom environment to competitions and excursions.
"I thoroughly look forward to seeing students engage in the Team Trophy competition under these new names."
BACK