Student
Rules & Behaviour Policy
All students attending Summer School must agree and abide by the Student Rules (Summer School).
Code of Conduct
Be friendly, kind, helpful and polite to everyone by showing consideration and respect to all members of the Summer School community.
Do not use bad or offensive language (in any language).
Speak English in all classes and activities.
Follow the instructions of boarding parents, teachers or other members of staff.
Work well with boarding parents, teachers and other students.
Keep the college surroundings in a good condition, not cause damage to college property or graffiti.
Keep the college and places visited on excursions clean, by putting litter in the bins. Do not leave litter on the floor, in vehicles, in classrooms or in other facilities.
Be on time for lessons, activities, excursions and bed.
Respect the property of others. This includes taking, moving or using other people's belongings.
Always remain within the college campus, unless given permission by a member of staff to do otherwise.
Remain within the Boarding Residence at bedtime unless given permission by a member of staff to do otherwise or bedtime has been extended due to a specific event.
Do not bully or harass other members of the college community.
Use online resources safely and respectfully, and do not post anything online about others. Comply with the Student E-Safety Policy.
Do not consume or possess any banned substances including, but not limited to, cigarettes (this includes e-cigarettes and vaping), alcohol or illegal substances whilst on the college's premises or during off-site activities and excursions.
Do not bring, buy or use prohibited items into the school including, but not limited to, drones, skateboards, Segway's, go karts, roller skates, motorised vehicles, hair dye.
Do not enter the accommodation of the opposite sex. No girls in boys' accommodation and no boys in girls' accommodation.
Do not put the college community in danger or damage the good reputation of Concord College.
Health & Safety Instructions (Transport) 
Arrive on time and wait for the vehicle (coach, minibus or car) in a safe place.
Do not rush towards the vehicle when it arrives.
Wear their seatbelt and stay seated whilst travelling in the vehicle.
Never touch any of the vehicle's equipment or controls.
Keep bags clear as not to block aisles or exits.
Never attempt to get on or off the moving vehicle.
Never lean out of or throw things from the window of the vehicle.
Never kneel or stand on seats.
Never distract or disturb the driver or block the driver's vision.
Stay clear of doors after boarding or leaving the vehicle.
Always stop, look and listen before crossing the road after leaving the vehicle.
If you feel unwell, tell a member of staff.
Tidy up any rubbish.
The Summer School reserves the right to send home any student who:
Breaks these rules or who has persistent bad behaviour.
Presents with a safeguarding or wellbeing issue.
Or, for any other reason deemed to put members of the Summer School community or themselves in danger or the good reputation of Concord College at risk.
The student will be sent home at the parents' expense and fees will not be refunded (Terms and Conditions policy).  The Summer School's decision will be final and, due to the short length of the course, there is no right to appeal.  However, parents may refer to the Summer School's Complaints Policy if it is felt necessary.
Students on the Science summer programmes will also need to abide by the Laboratory Rules which will be issued and discussed during their first science lesson.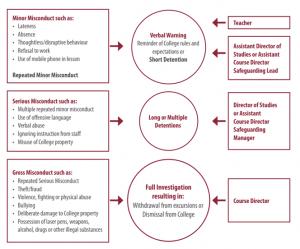 | | |
| --- | --- |
| Document Owner | Summer School |
| Reviewed in | June 2021 |
| Approved by/date | KQ/15-06-2021 |
| Next review | June 2022 |
| Publication | Portal & Website & Student Handbook |